Welcome to Fight Island. UFC251 will be one of the coolest MMA events of our lifetimes. Fight Island in Abu Dhabi is what has been teased almost like a movie that will be coming to real life. Right over the beach it will be a spectacle to remember as these gladiators step into the octagon overlooking the Arabian Sea. Look how beautiful this is: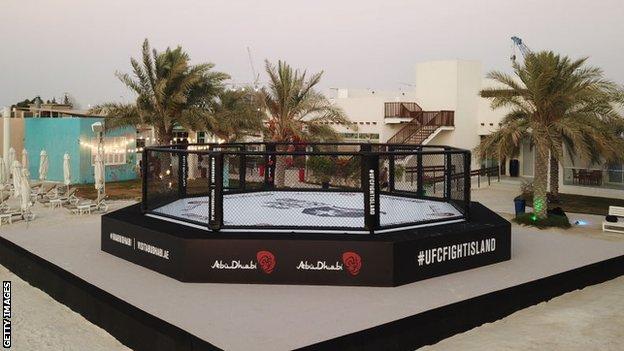 This card already had a lot of hype with 3 title fights in line but it got even crazier last weekend. This is because for the Main Event, a Welterweight title bout of Kamaru Usman vs. Gilbert Burns, it was announced that Burns tested positive for COVID and will be scratched from the fight.
When I heard the news I initially thought they would wait a day and see if Burns posted two negative tests before getting re-cleared to fight, but Dana White and the UFC had other plans in mind.
With a swift motion the UFC was able to plug in what I'd say is one of the top-3 most exciting fighters in the entire company to challenge Usman on Fight Island. They got this done with not even a week's notice. Jorge Masvidal will now be headlining against Usman and looking to challenge him for the Welterweight championship belt.
This is also huge because the UFC has had rumblings of labor disputes with their most marketable fighters. 3 of the biggest names in the sport, Jon Jones, Conor McGregor, and even Jorge Masvidal, have said they were not going to fight until they were getting the pay and title chances they felt they deserve. So, in a quick way to deal with that issue Dana White and the UFC got Masvidal the chance that to add the Welterweight belt to his case on just 6 days notice. Masvidal comes in with the BMF belt, but this is a chance to get a real UFC title to his trophy case.
The UFC knows what puts asses in the seats. Figuratively in recent history. They have led the sports world in the pandemic live sports entertainment and this will be their biggest event yet. With 3 title fights Saturday night will be unbelievable pay-per-view MMA. How do I know that? Well, because the UFC constantly delivers.
Let's look at the 3 title fights:
Title Fight #1 Yan vs. Aldo – Bantamweight Championship (135 lbs.)
I just think Aldo is too old compared to Yan. Yan has 6 years on him and has a ton of power and speed. I'll take Petr Yan as the favorite and I don't think it will even go the distance.
Title Fight #2 Volkanovski vs. Halloway – Featherweight Championship (145 lbs.)
I really want Halloway to reclaim the Featherweight belt to set this rivalry up for a trilogy. Volkanovski is a bad man and will be looking to KO Max and shut up the haters about their previous fight at UFC 245.
Halloway at +170 is a pretty good looking line and when he comes in as the challenger with no fans in attendance I think we'll see a historic battle that will set up for a great third fight down the line in the UFC.
Title Fight #3 Usman vs. Masvidal – Welterweight Championship (170 lbs.)
The main event will be one of the most exhilarating fights we will see. These two dudes are powerful and simply don't like each other. The undisputed champ Usman comes in looking simply to take care of business and shut Masvidal up. He doesn't care who's lined up in front of him and just knows how to get the job done. Usman is one of the scariest dudes in the circuit.
But, Masvidal has shown over and over again that he will show up and try to "baptize" whoever else is in that octagon with him. He knows the BMF belt is just a place card and he wants that title to carry along with him as well.
I love how these 2 are juxtaposed against the other as well. The portrayal that Usman is just an assassin who will obliterate any opponent put in front of him vs. Masvidal being a Tony Montana type mob boss who wants to make the victory both convincing, threatening, and stylish. This dichotomy sets up 2 unique styles that will for sure lead to blood and insane blows back and forth.
I wish they had a little more than a week to fully prepare for each other and this just adds another element of confusion when looking how to pick a winner. I want to say Masvidal because he is so fun to root for and I think is more marketable than Usman. But overall I just think Usman is simply too big and technically sound to fall victim to one of Masvidal's home run swings. So again I'm going to go with the favorite and pick Usman to retain his belt.
When at the lines right now it looks like a lot of money is pouring in on the challenger, so it will be interesting to see if that trend continues and what the final line is tomorrow at 11pm.
Hopefully this is a springboard for the UFC to next get Jon Jones, Conor, and their other biggest fighters back into the main event spotlight. The sport is obviously better off with them but as long as they can continue to put on productions of great quality and entertainment they will proceed with most of the leverage. UFC announced today that they have a new sponsorship deal with Venum so maybe that stream of revenue will be another tool to compensate the fighters more fairly. If not then the whispers of UFC Unionization will continue to get louder.
Cheers and good luck betting on the fights.